Fujitsu
Delivering continuous transformation in the decade of possibility
Building trust in society through innovation: Leadership with purpose
Since 1935, Fujitsu has built a reputation as a trusted ICT equipment and services provider, valued by customers for its desire to take on big challenges, and not resting until it delivers.
With Fujitsu's customers needing to increasingly demonstrate their own wider societal impact, it was clear that the brand needed to lead them in addressing significant business and societal challenges. Through this leadership, customers would feel empowered to make a positive and meaningful impact on the world.
Fujitsu wanted to take a leap to truly live up to its purpose of 'building trust in society through innovation' and impact our world in a positive way. So, in 2020, it called upon Interbrand to adjust its positioning and sharpen its brand image.
The ambition for this brand transformation was to create messaging and a vibrant identity that would show Fujitsu at the new frontier, trailblazing a better way for clients to transform their businesses. To match this substantial ambition, we needed a rich new feel that would successfully leverage the brand's heritage, while showcasing its vision for the future.
It became clear that the new brand expression must therefore empower employees around the world to champion sustainable transformation. And show that in the decade of possibility, Fujitsu considers the big picture without forgetting the importance of small details.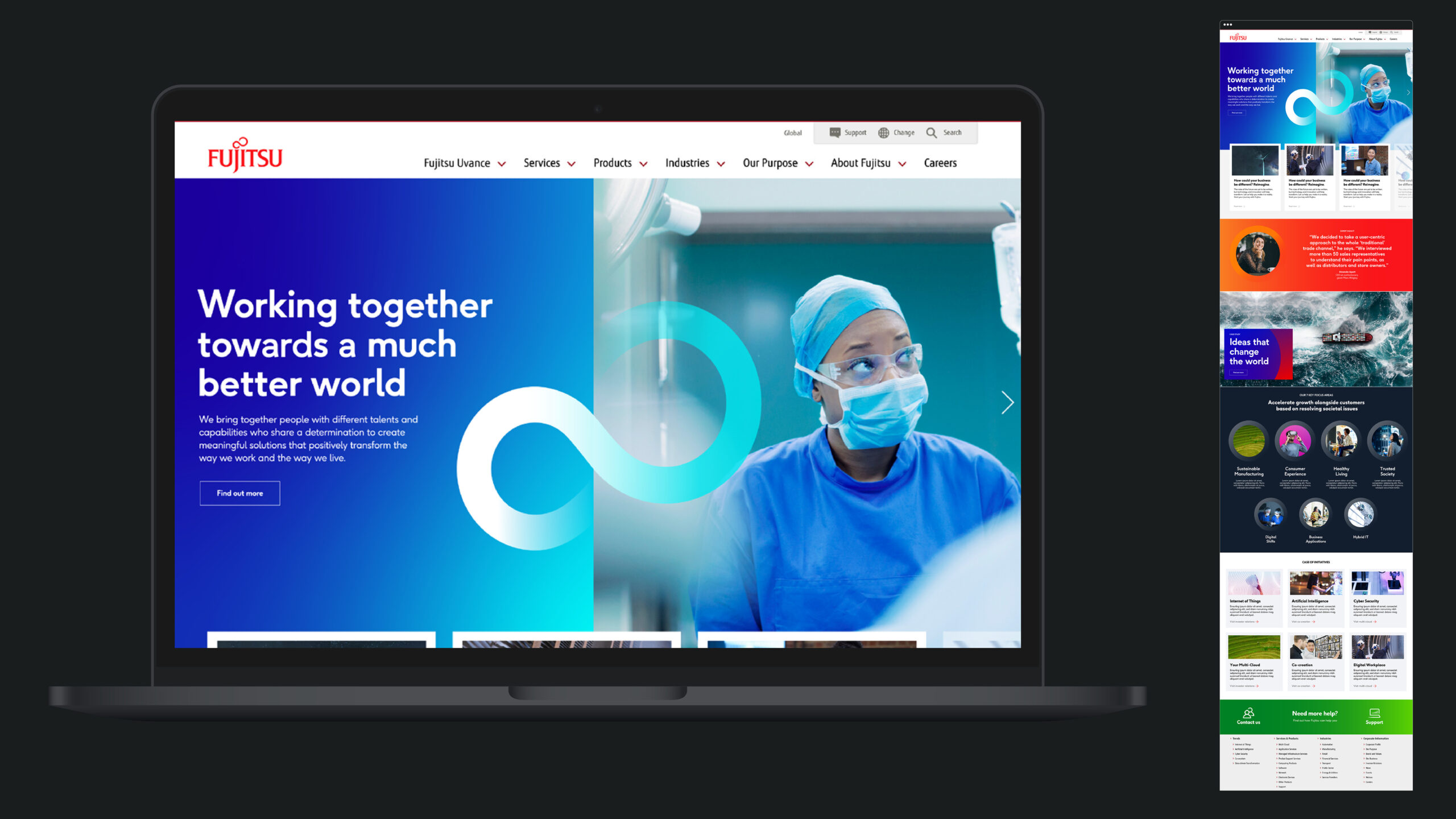 Reimagining the future with a more diverse brand system
After extensive insight-gathering, it was revealed that Fujitsu had strong credentials in trust and reliability, but was lacking the expression of a dynamic and creative digital partner. It was therefore important that our design solution respected the brand's history while vividly reimagining its future.
With this in mind, Fujitsu's existing infinity symbol was deemed the perfect visual device: one that would represent the concept of continuous sustainable transformation that is so crucial to the refreshed Fujitsu story, while retaining an already meaningful asset.
To reinvigorate this distinctive brand asset, we positioned it centre-stage and developed a suite of motion assets to bring it to life. What resulted was a digital representation of continuous transformation, struck seamlessly into motion.
To bring further life to Fujitsu's new image, we devised a dynamic colour system, using gradients to convey the brand's transformative potential. With newfound freedom supplied by this colour system, Fujitsu could finally move away from the corporate 'blanket of red', and towards an identity that is more reflective of our diverse world.
From out of Fujitsu's commitment to diversity, inclusion and accessibility, also came a new font called 'Fujitsu Infinity Pro.' This font was designed with warmth and openness at its core, and is well-placed for greater legibility across all print and digital communications.
And to spark conversations with customers around solutions that positively transform the way we live and work, a new business brand called Fujitsu Uvance was born. Founded on connecting people, technology and ideas, the business brand aims to accelerate customers' business in a way that actively creates a more sustainable future.
Empowering employees to drive meaningful impact
The vibrant new Fujitsu identity was launched into the world on 12th October 2021, at the impressive and wholly digital Fujitsu ActivateNow event.
And with a view to making the event as distinctive as possible, Interbrand created an exciting new digital space, that gave attendees a first glimpse of the new branding in action.
Now that the identity has successfully launched, we are excited to be continuing the Fujitsu X Interbrand partnership to embed the brand internally. To do this, we have created a comprehensive suite of launch communications, tools, guidelines and training materials to support employees across the globe. After all, for any business to make a meaningful impact on our world, it must first seek to empower its people.
If you want to know more about this project, we would be happy talk