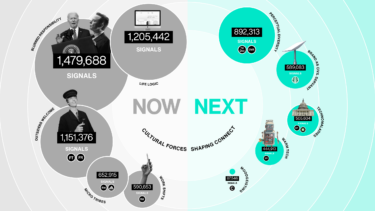 Connect Arena
Now & Next: The Cultural Forces Shaping Connect
Now
---

1,151,376 Signals
People traditionally being thought of as Outsiders or Other being brought into and becoming part of the norm presents an opportunity for brands. Brands can create new ideologies, give a voice to subcultures, change what is considered valuable – and become a new generation icon. Bust myths. Question common sense. Look for the next taboo to be shattered.
• While many consider it controversial to think of 50.8% of the US population as "other", until now only 1% of health care research and innovation has gone to women's health conditions (outside cancer). The FemTech industry is set to grow to $65.3B by 2027.
• The Federal Reserve is exploring a digital currency, among the benefits: helping the 5%+ of American households that are unbanked with no way of using digital payments. Experts estimate it'll take 5-10 years to launch.
Next
---

892,313 Signals
Because of technological advancement in virtual reality, augmented reality and mixed reality media, it is now easier to experience reality from different perspectives, resulting in experiences that allow audiences to see the world through other people's eyes.
• TV Documentary Uses Virtual Reality to Reunite People With Loved-Ones Who Have Passed Away (News)
• OVR Technology is bringing smell to virtual reality with new climate change experience
Life Logic

1,205,442 Signals
How do you make your brand a sought-after ingredient? As systems become more interconnected, consumers are hyperaware of how changes to one aspect of life can cascade throughout the ecosystem, which is providing opportunities for brands that take an ecosystem approach to market – intentionally leveraging efficiencies in one category to exploit inefficiencies in another market.
• In this edition: Five Questions with Matter, Time Magazine's Innovation of 2021.
• In this edition: Five Questions with Liberty Global, the $11.98bn telco partnering to bring energy to customers.
Technomaladie

505,684 Signals
As technology continues to expand its role within people's personal and professional lives its negative impacts including decreased focus, disrupted sleep and depressive symptoms are also growing. This is leading to an emerging industry of products and services designed to counteract tech's effects (e.g., blue light glasses) as well as increased scrutiny on the responsibility technology companies have to the people impacted by their products.
• The Dark Patterns website helps gamers choose games that are not designed to be addictive.
• Wordle exploded in popularity between November 2021 and April 2022 – from 90 to over 2 million players. In contrast to most other games, Wordle is not designed to be addictive, and is an enriching and mildly competitive way to stay connected to your community. So far, at least, the game has declined to monetize its place in the attention economy.
• In this edition: Positive Human Energy, the key insights from our co-creation deep-dive with consumers.
Micro Tribes
652,915 Signals
Because of the proliferation of network-based communications, from forums to social media and more, likeminded people can self-identify and form groups around common mindsets, resulting in the amplification of tribal and fandom behaviours as well as in the more sophisticated coordination of time, messaging and activities.
• BookTok, a TikTok community often involving members discussing books in physical bookstores, has led to a spike in sales at Barnes & Noble. B&N says 2022 sales are on pace to beat 2021 and 2019. The BookTok hashtag has been viewed 43B times.
• Adidas launched a paid affiliate program that will allow the 50k+ student athletes at Adidas-sponsored D1 universities to be paid brand ambassadors.
Warm Tech

444,913 Signals
As technology becomes more integrated with our lives and AI bots and assistants become more ubiquitous, consumers are seeking design that bridges the gap between the technical and the natural worlds. Whether that means technology that adds warmth through natural materials or voice assistants that share a sense of humour, consumers are looking for technology that reflects back their humanity.
• Soft robotics: Meta said it's spending ~$10B this year on VR, AR, and hardware related to the metaverse, including a warm tech glove that reproduces sensations and replaces bulky haptic tech.
• In this edition: "Technologists want Star Trek, People want a Mother" Innovating the Future of Connect at Telefonica.
Blurred responsibility
1,479,688 Signals

Because of the radical increase in the novelty and complexity of global issues like climate change, pandemics, civil rights, biodata rights, and others, there is an increase in the uncertainty as to which organization or sector of society is ultimately accountable, leading to an increasingly large number of issues where citizens expect both private and public sectors to demonstrate leadership and actively create solutions.
• In this edition: Brand Ethics: The New Frontier of Relevance.
Brand as Civil Servant

589,083 Signals
Because of radical changes in the media landscape that make marketing to consumers difficult at best, brands and corporations are extending corporate responsibility tactics to more visible areas like infrastructure, education, and healthcare, aiming to win the goodwill and attention of consumers – resulting in pizza delivery brands fixing potholes, companies paving paths and tech giants solving disease.
• By 2030, there could be 26 million electric cars in the U.S., which means we'll need more than 10 times as many EV chargers. Starbucks, with its 15,000 locations across the country, thinks that it could help fill part of the gap. In a 2022 pilot, Starbucks is installing EV chargers in its parking lots along a 1,350-mile route from Denver to Seattle, with stops available roughly every 100 miles. This route goes through several federal "opportunity zones", economically distressed communities. The company intends to bring charging to those underserved markets to open them up to electric vehicles.
Work Shifts
590,653 Signals
Whether through remote working, robotics or something entirely unexpected, distance will become a defining experience. What will create cultural unity, fruitful collaboration and emotional alignment in the absence of physical proximity? Can a brand become the permanent connective tissue of an organisation?
• Remote work: Data scientists predict that 25% of all professional jobs in North America will be remote by the end of 2022 and demand will continue to grow. At this rate, within a generation or two, the 40-hour workweek and workplace practices of the 20th century will be relics of the past.
Moodgeisting

87,546 Signals
Because of increased advancement in AI and the expanding sphere of data collection and personalized experiences, entrepreneurs and technologists are investing in technologies that are able to read human emotion and use that data for a variety of uses across product selection and sales, mood management and optimization, and interactions with bots or assistants.
• After Coors (successfully) attempted to "shape and compel [the] subconscious" into dreaming about beer, a number of large global airlines are working with MIT on "Targeted Dream Incubation" (TDI) for help with commercially driven dream-incubation projects.