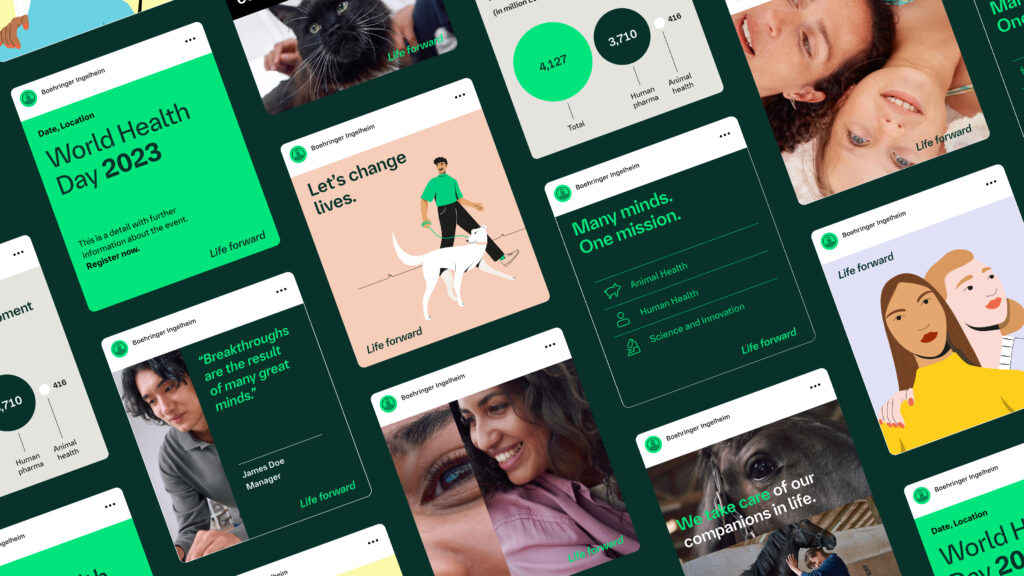 Newsroom
Life Forward – Relaunch of the Boehringer Ingelheim Corporate Brand
The evolved corporate brand opens Boehringer Ingelheim to increased visibility, customer proximity, and growth in new business areas.

Cologne, Berlin, Ingelheim, October 30, 2023: Boehringer Ingelheim, a leading research-driven pharmaceutical company, is now presenting itself with a new corporate design. The evolved corporate brand, developed in close collaboration with the Omnicom agency Interbrand in Central & Eastern Europe, opens the brand to increased visibility, customer proximity, and growth in new business areas.
The redesigned corporate brand incorporates various changes that go beyond the introduction of an unusual color palette, including introduction of the company's first-ever brand slogan: "Life forward." This slogan emphasizes the contribution Boehringer Ingelheim is making to address the challenges of the present and future.
As one of the leading companies in the industry, Boehringer Ingelheim explores and develops groundbreaking treatment options in some very severe disease areas. The number of non-communicable and infectious diseases in both humans and animals is constantly rising, the population is aging, and healthcare systems are increasingly overwhelmed. In these times, the company addresses unmet medical needs in both human and animal health, particularly in areas such as cardiometabolic diseases, inflammatory diseases, cancer, and mental health.
The new identity enables a modern, digital brand experience that emphasizes Boehringer Ingelheim's commitment to sustainability.
The newly designed brand enables a modern, digital brand experience that honors the long tradition of the family-owned company while strengthening its industry-leading approach to partnerships and emphasizing its commitment to sustainability.
"We have a responsibility as a company to take on these challenges," says Médard Schoenmackers, Boehringer Ingelheim Head of Corporate Affairs. "There couldn't be a better time to introduce our redesigned corporate brand – we have a pipeline that will positively change the lives of people and animals."
"The new brand identity and the evolved understanding of the role of the brand for the business elevate all customer experiences as well as digital and physical touchpoints of Boehringer Ingelheim to a completely new level," comments Jens Grefen, Senior Executive Creative Director at Interbrand in Central & Eastern Europe. "We are proud to have been involved in the development of this fantastic new brand direction and are eager to see how Boehringer Ingelheim will bring their new brand to life in the future."
Interbrand collaborated on brand activation with Omnicom affiliate BBDO New York, which developed the launch campaign.
About Interbrand
Interbrand has been a world leading brand consultancy for over 45 years – having pioneered iconic work and forged many of the brand building tools that are commonplace across the industry today.

In collaboration with the world's leading brands, Interbrand's global team of thinkers and makers are pioneering the future of brand building. By turning customers into active participants, Interbrand helps clients strengthen their brands on an ongoing basis – its approach gives them the confidence to make Iconic Moves that spark desire and create utility, driving extraordinary results.

Interbrand is a part of Omnicom's Brand Consulting Group that sits in the Communications Consulting Network.