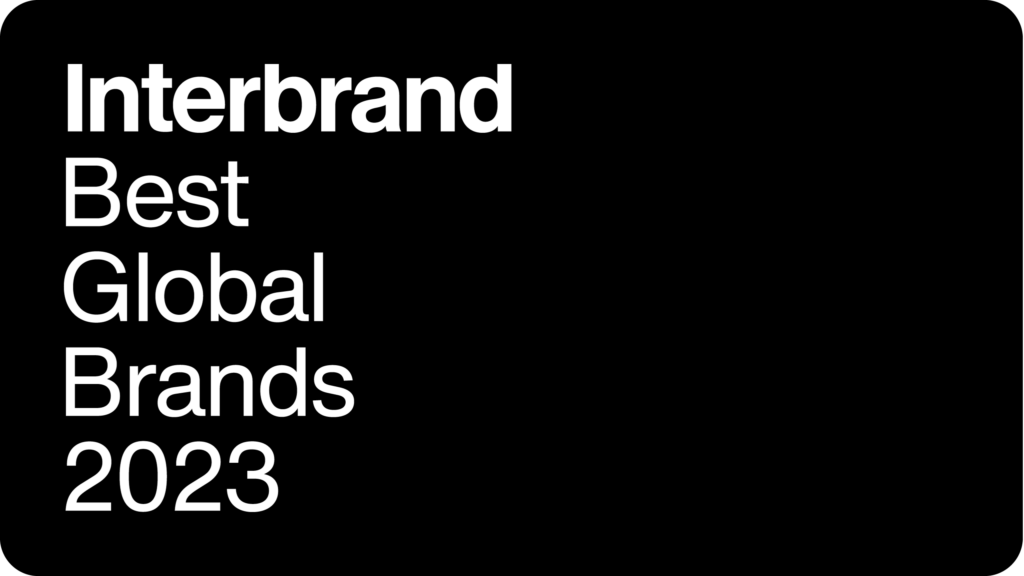 News
Brand growth slows finds Interbrand's Best Global Brands Report 2023
---
Total table value grew by 5.7% this year compared to 16% growth in value last year.
---
Interbrand cites lack of growth mindset, conservative brand leadership and uncertain forecasting behind the slowdown.
---
Companies that operate across multiple sectors continue to dominate the top of the table – making up 50% of the total value. Data shows a stronger focus on brand enables these companies to unlock rapid growth vs. the competition.
---
Airbnb (#46) fastest riser in value (+21.8%) despite only entering the table last yea.
---
Apple remains the #1 brand for the 11th year in a row. It is the first brand to rise above half a trillion USD in brand value.
---
Strongest performing sectors are automotive and luxury with sector value rising 9% and 6.5% respectively. BMW (#10) entered the top ten for the first time, with Porsche (#47), Hyundai (#32) and Ferrari (#70) also performing well.
---
Top 10 highest brand value riser is Microsoft (+14%).
---
Zara (#43) and Sephora (#97) are two retail stars of the table with brand value rising 10% and 15% respectively.
---
Nespresso is this year's new entrant (#98).
---
New York,
21st November 2023
Interbrand has launched its Best Global Brands 2023 ranking, revealing many of the world's top 100 brands are in a state of stagnation. The rate of growth in the overall brand value of the table slowed sharply after last year's significant increase – rising 5.7% this year compared to last year's 16% increase, taking the total brand value to $3.3 trillion ($3.1 trillion in 2022).
Interbrand cites lack of growth mindset, weaker brand leadership and poor forecasting as behind the slowdown. This follows a longer-term trend in which brands operating exclusively in one sector taking an incremental approach have experienced slower brand value growth.
Gonzalo Brujó, Global CEO of Interbrand, said: "After a few years of strong brand growth, we have entered a period of stagnation, with this year's table showing moderate growth in overall brand value among the world's biggest brands.
"Businesses which have witnessed a rise in brand value, including Airbnb (#46), LEGO (#59) and Nike (#9) have all transcended their established category norms and play a more significant and meaningful role in society and consumer's lives.
"As we continue to navigate economic and environmental headwinds, there is a need for improved business cases and better brand management to drive future investment and sustain growth within traditional sectors and beyond. Those who can successfully leverage their brand into new consumer pools of potential will reap the rewards of strong brand growth."
More than two decades of analysis show companies that address a more diverse set of customer needs, often across sectors, continue to dominate the top of the table – making up almost 50% of the total value. Based on the data, these companies operating across several different verticals are more stable[1], achieve higher top-line growth[2], remain more profitable[3], and benefit from a greater growth of brand value[4]. For these companies, a focus on brand rather than product plays a greater role in driving choice (+12% vs average), meaning they can address more customer needs, within and across categories.
Manfredi Ricca, Global Chief Strategy Officer, Interbrand said: "A brand like Apple can no longer be ascribed to a sector. It competes across different Arenas, helping its customers Connect (the iPhone), but also Thrive (the latest Apple watch was positioned as a health device), Fund (its new savings account drew nearly $1 billion in deposits in the first four days), and much more. Apple's move across Arenas has enabled it to hold the BGB top spot for the 11th year, having overtaken Coca Cola in 2013."
Kathleen Hall, Chief Brand Officer, Microsoft, said: "We are honored to be recognized for continued strong growth in the Best Global Brands ranking this year. The combination of brand perception and financial performance is a great indicator of brand health and relevance and one we value tremendously. With our acquisition of Activision Blizzard, our prominent leadership position in AI, and our continued commitment to make a positive impact on society, we aspire to be a brand people can trust and build a responsible future with."
Guillaume Le Cunff, CEO of Nestlé Nespresso SA: "Since the beginning, sustainability has been at the heart of the Nespresso brand and we have worked hard to show coffee can be a force for good. This is a very proud moment to see Nespresso recognized in Interbrand's Best Global Brands ranking for the first time. And we're not stopping there. We believe that the most powerful force behind our brand is our commitment to sustainability, which enables us to consistently offer the unforgettable taste and truly elevated coffee experience that consumers expect from Nespresso worldwide."
---
[1] +81.5% Revenue CAGR vs. the average, 2018-2022
[2] +43.8% revenue growth estimates vs. average
[3] +33.7% EBIT growth estimates vs. average
[4] +4.8pp Brand Value growth vs. average
Top riser
Airbnb is this year's top-rising brand with its value increasing +21.8%. It also jumped eight places in the table (from #54 to #46) despite only entering the ranking last year. The brand's significant increase in value is partly due to its strong investment in brand and solid financial outlook – revenue was up 40% in 2022 vs 2021 and is expected to rise an additional 13% in 2023 vs 2022.
Automotive and luxury witness strongest growth
Automotive brand value rose by 9% in 2023, with BMW (#10) entering the top ten for the first time (#10). Porsche (#47), Hyundai (#32) and Ferrari (#70)all achieved a double-digit rate of growth and accounted for three of the top five fastest-growing brands.
Tesla held its position in the table this year (#12), but its rate of growth was the slowest among the automotive brands with its brand value increasing 4.0% compared to BMW and Mercedes which grew 10.4% and 9.5% respectively.
"Automotive brand top risers have increased scores across Affinity, Trust, Presence and Participation – key drivers of brand value – ultimately increasing their connection with customers," says Greg Silverman, Global Director of Brand Economics at Interbrand.
Luxury is once again a top-performing sector with its brand value rising by 6.5% this year. This is due to luxury brands' resilience and ability to transcend categories to create luxury experiences such as restaurants, hotels and retail pop-ups.
Hermès (#23) and Dior (#76) are two of the biggest luxury brand risers, with 10.2% and 8.4% growth in brand value respectively this year. They are joining the likes of Prada, Tiffany and Burberry in moving beyond traditional markets and extending their brand presence with new partnerships, product launches and consumer experiences in the metaverse – creating new meaning with new customers.
About Interbrand
For the complete Top 100 ranking and report with industry trends and the full methodology, visit www.bestglobalbrands.com.
For more information, please contact:
Tina Goldstone
[email protected]
Interbrand has been a world-leading brand consultancy for almost five decades, having pioneered iconic work and forged many of the brand-building tools that are commonplace across the industry today.

In an age of unprecedented abundance of choice and speed of innovation, customers' expectations are moving faster than business. While incremental change is still essential, it is no longer sufficient. It takes bold moves to leap ahead of customers and competitors. Interbrand calls these moves Iconic Moves.

In collaboration with the world's leading brands, Interbrand's global team of thinkers and makers are pioneering the future of brand building. By turning customers into active participants, Interbrand helps its clients strengthen their brands on an ongoing basis. This approach gives them the confidence to make Iconic Moves that spark desire and create utility, driving extraordinary results.

Interbrand is a part of the Omnicom Group (NYSE: OMC). For more information, please visit www.interbrand.com.
About Arenas
This year's BGB report highlights the disproportionate rate of growth for brands that move beyond their narrow categories to operate across multiple 'Arenas' – a term coined by Interbrand to describe the shift by brands from the constraints of conventional categories to a focus on catering to core human needs.

By shifting focus from category norms to customer truths, arena thinking supercharges the growth of the world's most influential brands.
You can read more here.
Methodology
Interbrand has over 30 years of experience delivering brand valuation analysis, having designed and led the world's first brand valuation in 1988. Interbrand was the first company to have its brand valuation methodology certified as compliant with the requirements of ISO 10668 (requirements for monetary brand valuation) and played a key role in the development of the standard itself.
There are three key pieces of analysis that form the basis of Interbrand's valuation methodology:
The financial performance of the branded products or services
The role the brand plays in purchase decisions
The brand's competitive strength and its ability to create loyalty and, therefore, sustainable demand and profit into the future
In this decade of possibility, brands that aspire to true leadership must not only deliver exceptional experiences for their customers, but are increasingly expected to act with integrity, doing the right thing by people and planet. This is why Interbrand has further integrated the role and impact of a brand's environmental, societal and governance activities into its methodology for the measurement of the strength and value of a brand.
Criteria for inclusion in Best Global Brands
To be included in Best Global Brands, a brand must be truly global, having successfully transcended geographic and cultural boundaries. It will have expanded across the established economic centers of the world and entered the major growth markets. In specific terms, this requires that:
At least 30 percent of revenue must come from outside of the brand's home region.
The brand must have a significant presence in Asia, Europe, and North America, as well as geographic coverage in emerging markets.
There must be sufficient publicly available data on the brand's financial performance.
Economic profit must be expected to be positive over the longer term, delivering a return above the brand's cost of capital.
The brand must have a public profile and sufficient awareness across the major economies of the world.
The brand's 'Brand Strength Score' must be equal to 50 or above.
These requirements—that a brand be global, profitable, visible, and transparent with financial results—explain the exclusion of some well-known brands that might otherwise be expected to appear in the ranking.