2019 Best Taiwan Global Brands Revealed. Brands in Health and Technology see strong growth
The Best Taiwan Global Brands, an annual ranking of local brands done by Interbrand under the commission of the Ministry of Economic Affairs' Industrial Development Bureau (IDB), announced its 2019 winners today.
Despite the impact of U.S.-China and Japan-Korea trade wars, the top 20 Taiwan Global Brands of 2019 bucked the trend and grew by 0.7% on average. Health and technology brands delivered a stellar performance in the brand value survey this year. Giant Manufacturing and Merida Industry took off and grew significantly thanks to a growing customer base for electric bicycles. Driven by trends like AI and 5G, the values of leading high-tech brands like Advantech, Delta Electronics, and MediaTek also continued to increase.
In the face of a rapidly changing market, companies need to explore all possibilities for brand development. It is more important than ever to introduce the latest technologies and optimize transformation through customer insight. For example, Advantech has adopted a "co-creation" approach, working with different ecosystem partners to tap smart-city opportunities with IoT technologies, and expand IoT application to retail, logistics, healthcare and other areas. Well attuned to the 5G trend, MediaTek is taking advantage of its role as an IC design house to flip Taiwan's image as the home of just OEM operators by working with Microsoft and other foreign customers on the development and positioning of related applications.

Interbrand has identified four pivotal trends for local brands to achieve product differentiation and upgrade:
Market insight and agility. Today's consumers expect rapid change, so brands have to constantly monitor the market and tweak their strategies in real time.
Make bold estimates and create demand. Besides existing market demand, brands have to make audacious predictions on consumers' expectations and act proactively to create new demand.
Provide a two-way experience, and maintain your customer base. Brands should act proactively to understand the characteristics, needs and expectations of consumers in different segments, so they can customize experiences for different groups of customers.
Have the courage to disrupt and achieve the extraordinary. Brands have to keep exploring new territories and opening up new frontiers to withstand the ups and downs in the market, while continuing to live their brand values.
Interbrand suggests that Taiwan brands should take advantage of the advent of a new era, and act proactively to find their core strengths through business upgrades and transformation. The courage to open up new frontiers will help build brands of international caliber, added the consultancy.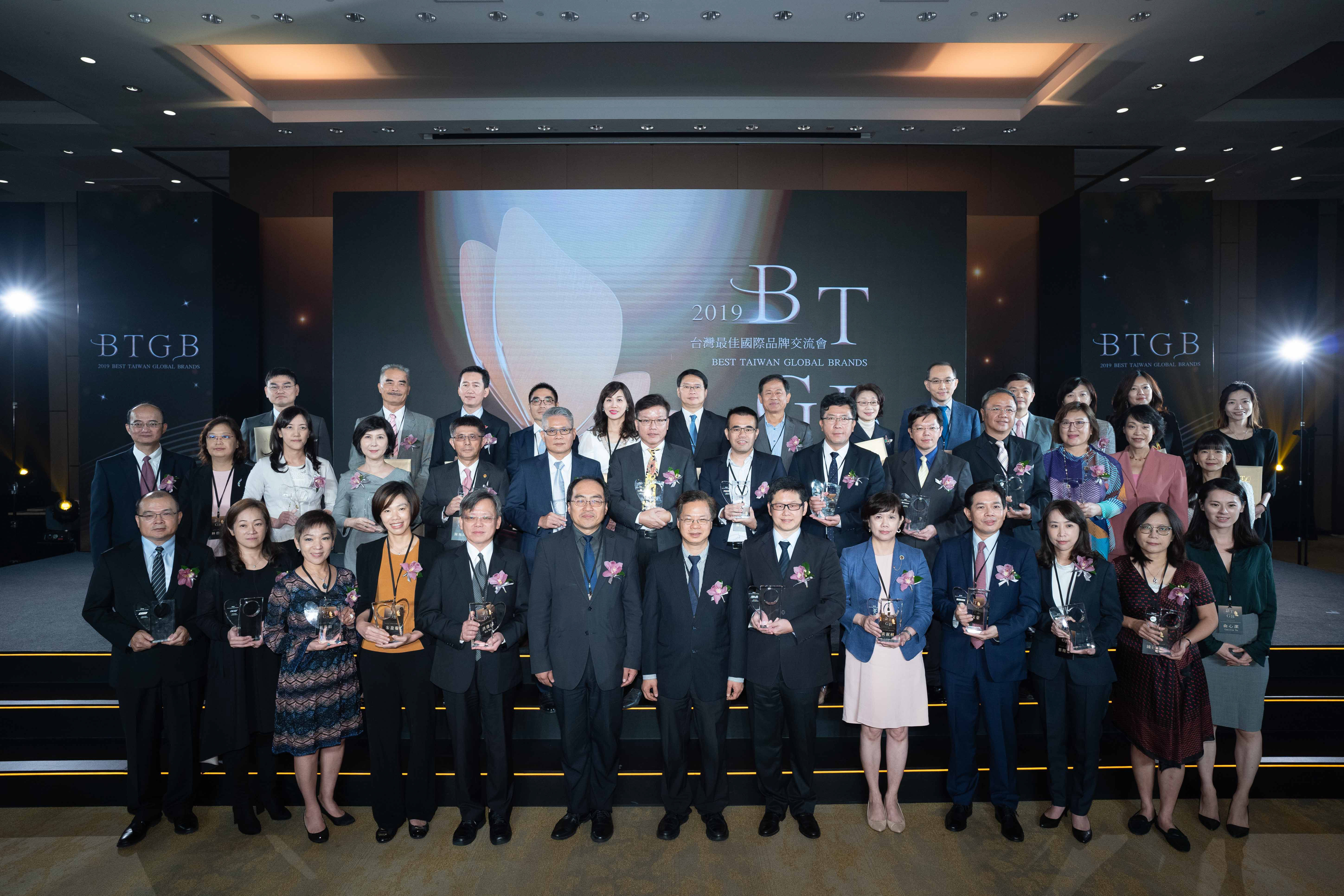 Minister without Portfolio, Executive Yuan Kung Ming-Hsin (7th from left in the front row) and Industrial Development Bureau Director-General Leu Jang-Hwa (6th from left in the front row) join representatives from the winning companies for a photocall at the award ceremony

About Interbrand
Interbrand has been the world's leading brand consultancy, for over 40 years – having pioneered iconic work and forged many of the brand building tools that are now commonplace.
We know that in an age of unprecedented abundance of choice and speed of innovation, customers' expectations are moving faster than businesses. While incremental change is still essential, it's no longer sufficient. It takes bold moves to leap ahead of customers and competitors. We call them Iconic Moves.
In collaboration with many of the world's leading brands, our global team of thinkers and makers are pioneering the future of brand building. By turning customers into active participants, we help our clients strengthen their brands on an ongoing basis – our approach gives them the confidence to make Iconic Moves that spark desire and create utility, driving extraordinary results.
Our highly influential Best Global Brands valuation and award-winning Brandchannel news site are resources to our clients and the industry, providing proprietary data for our role as client partner and commentator. We have published 18 books on brand. Through our own Academy, we aim to be the most accelerated learning environment in the marketing world.
Interbrand is part of The Brand Consulting Group of Omnicom Group Inc. (NYSE:OMC). For more information, please visit www-interbrand-staging.azurewebsites.net

For more information, please contact:
Cecilia Yu
Sr Director, Strategy and Buisness of Interbrand Greater China
[email protected]
D +86 21 6263 3000
T +86 21 6263 3305
M +86 18621631467