Five Questions with Robert Triefus,
Executive Vice-President, Brand and Customer Engagement, Gucci
Robert Triefus, Executive Vice President, Brand and Customer Engagement
What changes do you see right now if your brand and the luxury industry?
Six years ago, when Gucci's CEO, Marco Bizzarri, and Creative Director, Alessandro Michele, were given the responsibility to take on the legacy of Gucci, a brand that will next year celebrate its 100th anniversary, they looked towards the future against the context of an industry that was homogenous and set in its ways.
Despite being an industry that is assumed to set trends and innovate, it had habitually tended to stick together and repeat the same approaches, business models and so on over a significant period of time. Marco Bizzarri, on looking at Gucci when he arrived, in December of 2014, felt it was flatlining. It was a successful brand, but it wasn't growing at the rate that he felt it could be offering and was a great opportunity for disruption.
At that time, one of the factors that he felt could be a defining unique competitive advantage was to create a culture at the company that was more reflective of the world that we live in today.
A world that is certainly more inclusive, more concerned about sustainability. In other words, a world that was more values-driven.
In 2020 we are facing circumstances that are unique. The changes that Gucci is now implementing are changes that were happening organically anyway. The pandemic has, in a way acted as a catalyst.
Business and creativity need to be synergistic, there needs to be a very strong chemistry between the business side and the creative side.
And we've been mapping out a new manifesto for the post-Covid era that will focus even more strongly on digital first, and on the community – the brand's community, our customers and our stakeholders, and engaging with that community with a values-first philosophy; values such as challenging the status quo, being inclusive, being diverse, being sustainable, and of course, being digital.
You have touched upon the relationship between Gucci and digital as a channel to interact with your customers. Can you explain how you leverage it?
Gucci, back in 2000, was really the first true luxury brand to embrace e-commerce. At the time, if you think back 20 years, there was a great deal of cynicism and skepticism about whether luxury could be sold online. Because there was a sense that you needed that physical, tactile and service-driven environment. Of course today, 20 years on, we know that that was a fallacy and that e-commerce is as adaptable for luxury as it is for other categories.
Of course, there are certain principles, as there are in the physical world, that, as a luxury brand, you need to focus on in order to ensure that the experience that your customers can have in the digital world, and particularly in the e-commerce world, meets the expectations that they have for service, quality and the ability to understand the product and get a sense of the quality and the creativity of the product.
We now operate e-commerce in over 34 markets. We, of course, think significantly about the experience about the quality of the engagement that we provide on our e-commerce site.
And now, in the pandemic era, when we think about the importance of digital in a world where you have to recognize the constraints of social distancing and a certain nervousness that some customers may now have for going into the physical environment, it's extremely important that we double down. Because Gucci has been at this for 20 years, and has embraced digital all along the way, we were very well positioned to really increase our capacity in providing digital seamless experiences. So we rapidly rolled out a number of innovations already under development including a virtual showroom.
At the end of 2018 we announced our intention to establish a global client service centre. Today, we now have that global client service centre, Gucci 9, in place with over 500 online client advisors. Given that network and that structure, it means that we're able to support our stores through the digital, personalized and human service that our online client advisors can provide supported by the latest customer service technology. And we've even enhanced that; we now have Gucci 9 Live, a video service that can be accessed by clients wanting to get close to a physical experience, which replicates a store experience by live video. These kinds of innovations have really equipped us for this pandemic, to bridge digital and physical.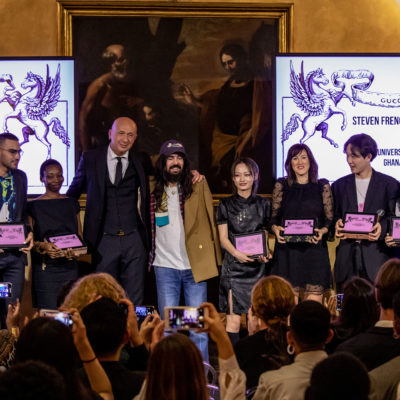 Diversity and inclusiveness are important topics right now. How do you approach this now and in the future?
In 2015, when Marco Bizzarri wanted to create a competitive advantage through cultural difference, corporate culture and brand culture, he had already identified the values of inclusion and diversity as primary concerns, as did Alessandro Michele who immediately moved to reflect these values in his first collections.
However, at the beginning of 2019, Gucci experienced an incident concerning the design of a balaclava sweater that became associated with blackface that made us realise that we still had work in order to further embed diversity and inclusion within the company, within our processes, and within the way that we think and express ourselves.
So at the beginning of 2019, Marco Bizzarri gathered around him and Alessandro a group of advisors, who have become part of our Changemakers Council. Having gathered this council in Harlem, with the support of Dapper Dan, we established an action plan that complemented and enhanced our existing practices. And this action plan has involved a number of important programmes and changes within our own corporate culture.
The programmes include a design fellowship, where we have now identified 11 design fellows from fashion colleges around the world, who will spend up to a year with a fellowship in Rome, with Alessandro and his team.
Of course, unfortunately, the COVID pandemic has delayed the start of that, and it may be that we have to start in a virtual way. In America, we launched both an impact fund of $5 million, over five years, being directed towards local organisations around our stores in those cities where we can especially direct support to disadvantaged minorities.
Also in 2019 we launched a companywide Volunteering programme called Gucci Changemakers whereby all 20,000 of our employees have four days a year, which is paid time that they can dedicate to their communities and to nonprofits. That was another way of expressing our inclusion in our community.
And we also launched a scholarship programme in America, especially to provide support for students from minority communities, that has just awarded its first scholars. And on the internal side, we've been giving unconscious bias training to our employees in America and at our corporate offices, and we're rolling it out around the world. So learning through experience has allowed us to put in place programmes that really do, I think, lead us towards an even more inclusive and diverse culture for our company.
How do you build a community into the heart of your brand? And how could you reach a new community in the future?
This is probably one of the hardest answers to articulate well, because, of course, all successful brands, all those brands in your top 100, will talk about the importance of the community that is around their brand. But how you engage with that community is ultimately what drives the success of a brand and drives the energy of a brand. When Marco Bizzarri said that he wanted to put creativity at the centre of what this brand stands for, and what drives this brand, it was because he understands very well that the emotional quotient is the defining and distinctive criteria for success for a brand.
How do you create emotional bonding with your customers?
We are extremely privileged at Gucci, I believe, to have a creative director who is driving those emotional values for our brand. Looking at the influence that Alessandro Michele is having on culture today, if you think about the way he has been empowering self-expression and redefining the notion of beauty through his collections and narrative he is now a reference point for the zeitgeist.
The reason I mention this is because the ultimate success for a brand in creating true engagement is driven by authenticity. A lot of brands talk about authenticity, but very few are really able to demonstrate that, which we know for Generation Z and millennials, is so important. We did some research with a group of Gen Zs and it was fascinating. One comment that they mentioned is that the reason that they are engaged with Gucci is that they see a perfect imperfection in what the brand does. And that's a really interesting thought. In the past luxury brands have been controlling forces, with one-way communication at arms length, but now a luxury brand can be engaged in a notion of imperfection, but making it perfect with a two-way inclusive dialogue between the brand and its community. And I think that is at the essence of what Alessandro has been able to bring to Gucci and to the authentic engagement we have with our community.